Musical Instrument Insurance Companies: How to Compare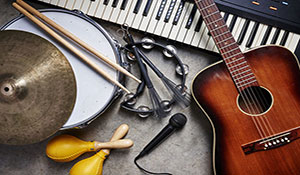 Musical instrument insurance is available from many companies but only a few provide the coverage that professionals require.
Questions to ask when comparing musical instrument insurance company policies:
Is there a minimum premium? Some companies will charge you a minimum of $500 even if you are only insuring $2,000 worth of instruments.
Is Worldwide Equipment Coverage provided? Most policies from North American Insurance Companies only cover your musical gear in Canada and the USA.
Is Office Contents Coverage included? If you run your music business from home, your computer, printer, etc. may not be covered by your tenants policy.
Are Valuable Papers & Accounts Receivable coverage included? A professional musician should have these coverages so that your records can be recreated.
Is coverage for borrowed Musical Instruments and Musical Equipment included? If this coverage is not in your current policy, it is easily obtained.
Is automatic inflation protection included for musical instruments?
Is coverage for newly acquired musical instruments and musical equipment included for up to 30-days before you tell your broker?
Is full coverage for Earthquake and Flood included? Your homeowners policy will

not

cover your professional gear for flood damage and may not include EQ either.
Is lost Business Income / Extra Expense Coverage included? This is good protection for a professional musician.
All of the above is covered when you purchase musical instrument coverage from Front Row Insurance Brokers' online musical instrument insurance program. A quote takes ~10 seconds. A policy can be downloaded in 5 minutes by answering 8 questions.
Front Row is a specialized entertainment insurance broker. The Front Row online musical instrument insurance program has been endorsed by:
SOCAN (the Society of Composers, Authors and Music Publishers of Canada)
RACS (the Recording Artists' Collecting Society)
CCMA (the Canadian Country Music Association)
Related:
Musical Instrument Insurance 101: How to Protect Your Instruments
Tips & tricks to guard your gear
Protecting instruments at home
Protecting instruments at airports
Protecting instruments on tour
Musical tour insurance
Band on the run
Tribute bands and liability
Protecting your guitar
Protecting your drums
Protecting your keyboard
Protecting your violin
Protecting your saxophone
How to make a claim
What is my gear worth in event of claim?
You may not be covered under homeowners
Front Row's musical instrument policy
Insurance for SOCAN members
How to compare musical instrument insurance cos.
Blurring the lines of music infringement law