E&O Insurance for Producers: Minimizing the Risk of Unsolicited Submissions Claims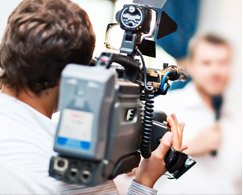 Minimizing the risk of E&O claims
Here are some ways to prevent a film producer's E&O insurance claim:
Refuse to read scripts, story concepts etc. without getting a written waiver of any future claims by the writer.
All submissions are held (preferably unopened) by clerical staff until they send out a release form and get back a signed copy.
Maintain good record keeping systems of what submissions have come in, who saw them, and how they were handled.
Limit the number of people who actually review these projects.
Be careful how you respond to submissions.
Keep track of where the project ideas come from and when.
Example of a potential E&O claim:
A plaintiff sues a producer for copyright infringement. Alleges that movie being produced is based on a script submitted to the producer years before that was rejected. Producer made notes throughout the script recommending changes and plaintiff believes these changes are consistent with the movie. The amount claimed was not specified.
The producer's errors and omissions policy will provide a lawyer and pay the legal fees to defend the producer that purchased an E&O policy for producers.
If you would like a no obligation producer's E&O insurance quote, please click here.
Related Post: Claims Made vs. Occurrence Based E&O Claims
Front Row is an independent film insurance broker that works on behalf of filmmakers to transfer the risks of filming to insurance companies for the lowest possible cost. Front Row makes sure that filmmakers receive their claim money quickly. Front Row has offices in Vancouver, Toronto, Montreal and Los Angeles.