Wrap Party - Event Insurance Policy | Wrap Party Insurance Canada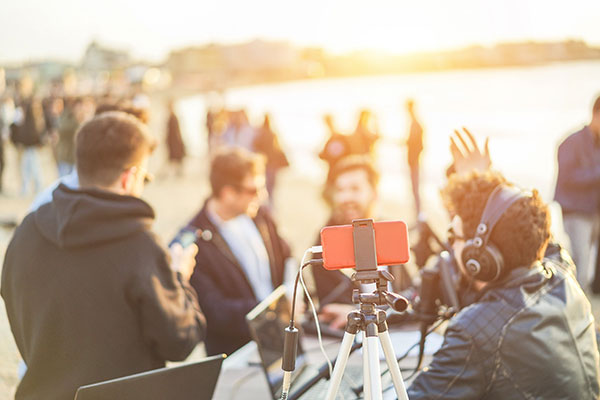 It's a Trip…a Trap…We Mean, a Wrap!
It seems your lead actor (let's call him Frankie Awesome) has done it again. You see, Frankie is a terrific actor, but a disastrous human being. He cannot be let loose in polite company without something absolutely terrible happening. Nothing, from the neighborhood cat to your favorite plate glass window, is safe from his catastrophic, and frequent, accidents. It's no mistake that Frankie's other nickname is "The Master of Disaster."
Oh, Frankie. This time, the big klutz managed to wind his legs together and crash headlong into a rented tent. What fun! Now you have a table of horrified actors suddenly very unprepared for the weather, watching in real time as their seafood turns into soup.
Cue sound of screeching tires.
Cue stylus scratching record.
Cue sinking stomach.
Not exactly the big, cool sendoff your cast and crew were looking for, was it?
Despite the general horror, Frankie will be okay; he's an old hand at this kind of scene. But what about your pride, and your pocketbook? Someone's going to have to pay for those tents…and the dry cleaning.
You carried all the right insurance all the way along, but entertainment package policies don't cover wrap parties and you didn't think something would happen. While you can't stop Frankie Awesome from being awesome, you can prevent the consequences of his awesomeness from costing you money.
Let's get serious for a moment. If you could provide peace of mind for yourself and your wrap party for around $200, would you do it? Front Row offers an event liability policy which will ensure that if an incident of bodily injury or property damage occurs, you won't be paying out of pocket. We will, at your request, provide certificates of insurance to your vendors to ensure they're covered, too. And we can obtain host liquor liability for you if that's needed (which it will be if you'll be serving alcohol to your guests yourself). Our event policy can also be endorsed to cover rented tents and marquees so they're safe from Frankie.
Without your cast and crew, the film wouldn't have been made. The wrap party is for them. Make sure it's a memorable night…for the right reasons. Get a free online quote.
RELATED LINKS:
Event Insurance 101 & How to Protect Your Events
Wrap Parties
Holiday Office Party Insurance
Kid's Birthday Party Insurance