The Best Film Festivals in Greater Los Angeles | Best Film Fests in LA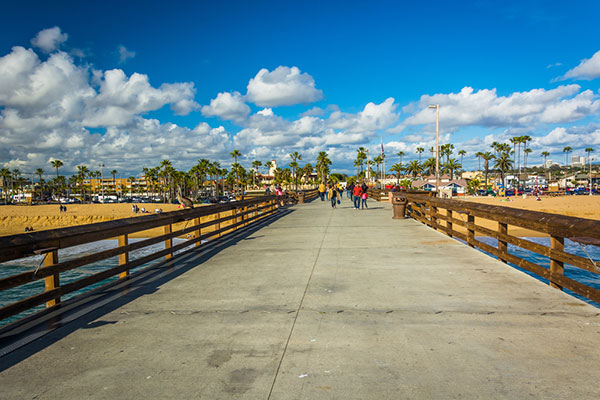 Here is a look at some of the top film festivals in the Los Angeles area, and how they have dealt with the new world of social distancing in entertainment.
We'll discuss (in no particular order):


Film Independent Spirit Awards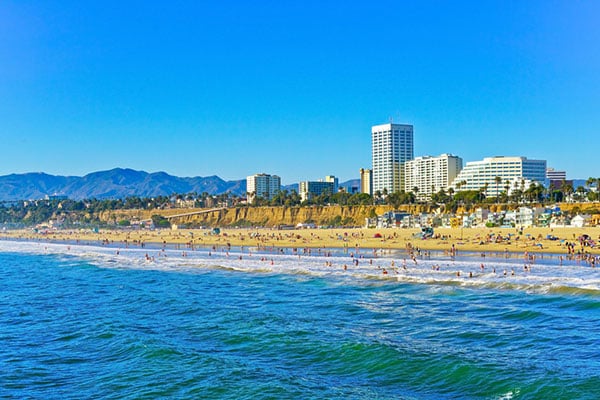 Source: Royalty-free stock photo ID: 1501210367 | Shutterstock
Website: https://www.filmindependent.org/la-film-festival/
For the last 35 years, Film Independent have hosted their Spirit Awards at a beachside in Santa Monica. Each year, the festival "brings together top talent from throughout the world of independent film". Film Independent members can nominate and vote in categories such as: Best Feature, Best Director, Best Screenplay and more.
The Spirit Awards ceremony features a number of unique honors, including: Best First Feature, Best First Screenplay, the John Cassavetes Award (best feature under $500,000) and the Robert Altman Award (best ensemble cast).
Like many other festivals, Film Independent postponed their 2021 Spirit Awards by a few months due to the novel coronavirus pandemic. Front Row Insurance Brokers have collaborated with Film Independent to offer their members preferential pricing on Short-Term Production packages (US).

OUTFEST Los Angeles Virtual 2020
Website: https://outfest.org/
OUTFEST is a non-profit organization originally established in Los Angeles in 1982. OUTFEST considers itself "the only global LGBTQIA+ arts, media, and entertainment organizations whose programs empower artists, communities and filmmakers to transform the world through their stories, while also supporting the entire life-cycle of their career".
OUTFEST holds an annual weeklong film festival, displaying films in iconic venues such as The Orpheum Theater, Laemmle Music Hall, or the MOCA Grand.
In 2020, OUTFEST hosted its first virtual film festival, "You're no longer restricted by location or distance, because we're bringing the festival to your living room, backyard, home office, literally anywhere you are in the United States. So, if you love diverse stories and finding representations of yourself on screen, this festival is for you".

LA Shorts International Film Festival
Website: https://www.lashortsfest.com/
The LA Shorts International Film Festival is the longest running short film festival in the greater Los Angeles area. This festival features up to 272 films each year from 31 different countries. The Academy of Motion Pictures Arts & Sciences, The British Academy of Film and Television Arts, and The Academy of Canadian Cinema & Television, all accredit the festival.

AFIFEST – A Virtual Film Festival
Source: Royalty-free stock photo ID: 686279659 | Shutterstock
Website: https://fest.afi.com/how-to-fest/
Located in the heart of Hollywood, the American Film Institute's AFIFEST practiced COVID safety and social distancing in 2020 by airing film submissions differently.
Virtual screenings were offered as well as drive-in screenings in multiple locations, including the Pasadena Rose Bowl Stadium. "AFI champions progress in visual storytelling to empower storytellers, inspire story lovers and further the limitless power of the moving image".

Screamfest Horror Film Festival
Website: https://screamfestla.com/
America's largest- and longest-running only horror movie festival – Screamfest – awards the year's top movies, filmmakers, actors, and screenplay in this genre. In 2020, Screamfest went above and beyond by creating a socially distanced drive-thru haunted house and film screening at various locations between October 6 and 15.
Not only was this event held for members, but also the public free of charge. Drive-in locations were scheduled throughout Los Angeles, including The Regency Theater Plant Drive-In in Van Nuys, and Calamigos Ranch.

The Newport Beach Film Festival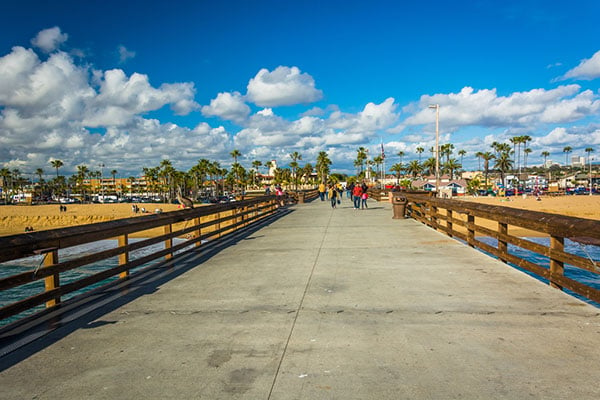 Source: Royalty-free stock photo ID: 256982518 | Shutterstock
Website: https://newportbeachfilmfest.com/
2020's festival ditched the red carpet for complete virtual programming on October 1st through the 11th.
Since 1999, this film festival has been a celebrity favorite due to it being located on the beautiful Balboa Pier in Newport Beach. This film festival features over 350 international, independent and student film screenings over 8 days. The festival has premiered such films as 500 Days of Summer, Crash, and The Illusionist.

NFMLA (New Filmmakers Los Angeles) Film Festival
Website: https://www.newfilmmakersla.com/
Each month at South Park Center, NFMLA presents a red carpet screening of documentaries, shorts and feature films for that month's subgenre, e.g., Indigenous Cinema, Female Romance, Latino Cinema, Music Videos, and New Media Projects. After each screening, a forum takes place where members can have an open audience discussion about the project.
NFMLA also educates its attendees by inviting industry professionals to discuss and gain insight on distribution, production, acquisition and development.
NFMLA is a non-profit "designed to showcase innovative works by emerging filmmakers from around the world, providing the LA community of entertainment professionals and filmgoers with a constant surge of monthly screening events".


LA Women in FilmFest hosted by WIF (Women in Film)
Website: https://www.lafilmfestivals.com/la-women-in-film-fest
The Los Angeles Women in Film Festival champions "female and female identifying filmmakers and storytellers". This festival only accepts submissions from female directors, writers, majority female crew, and/or any female driven stories of any genre.
Note: Front Row Insurance Brokers has a program with WIFT-US that allows members to receive preferential pricing on Errors & Omissions coverage and production packages.

Get Film Insurance USA | US Short Film Project Insurance | Short-Term Film Production Insurance USA | Film Equipment Insurance
If you're researching film festivals in LA, chances are that you're a filmmaker yourself or involved in the film industry.
Front Row provides production and producer's E&O insurance for: features, episodic television, docs, shorts and more. The next time you're working on a film production, consider Front Row's insurance policies:

About: Front Row Insurance Brokers Inc. is an independent insurance broker that specializes in the entertainment industry – specifically, the film industry. Front Row works hard to provide insurance protection for the lowest possible cost. Should a claim occur, Front Row works diligently with clients and insurers to expedite the payment of claims. USA offices in: NY, Nashville, LA.
Related posts: