The Best Software for Filmmakers / Best Filmmaking Editing Software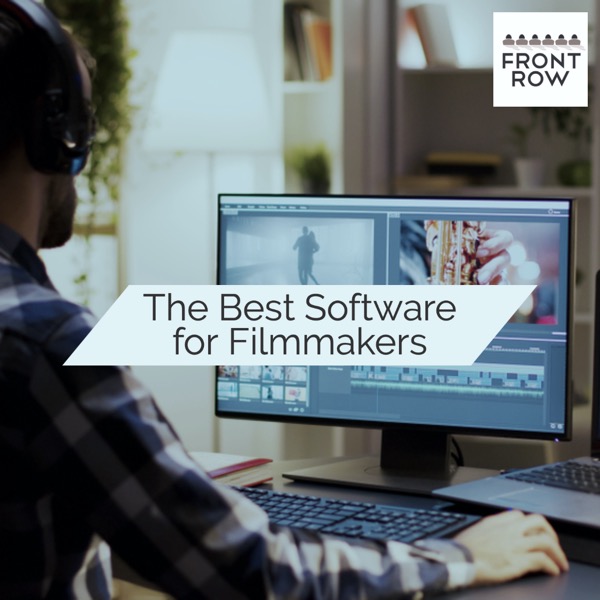 Shutterstock: Royalty-free stock photo ID: 1577644270
Let's provide a high-level overview of some of the best software for filmmakers available on the market now! We'll look at a mix of backup software, dailies software, colour correction software and standard video editing software in this post.
We'll discuss (in no particular order):
Hedge | smart software for filmmakers
Website: https://hedge.video/
Hedge is a footage backup and archiving solution that is impressively fast. Filmmakers can transfer and backup their video files blazingly fast using this software, available on Mac and Windows.
This company also offers some accompanying software that can be useful to filmmakers, including Foolcat for camera reports and Checkpoint for backup verification.
ShotPut Pro
Website: https://www.imagineproducts.com/product/shotput-pro
ShotPut Pro bills itself as "the industry standard for offloading video, audio and photo files", available on both Mac and Windows. Filmmakers and editors can make multiple, verified copies from one source using this software.
The company - Imagine Products – also offers some companion software that filmmakers may wish to consider, such as PrimeTranscoder (for file transcoding) and TrueCheck (for file management).
Pomfort / Livegrade Pro / Silverstack
Website: https://pomfort.com/
Pomfort, a German company, has developed multiple innovative software products, including Livegrade Pro and Silverstack Lab, to simplify digital production workflows.
Livegrade simplifies the on-set color workflow and dailies process, while Silverstack is a dailies software for quickly copying and backing up footage.
These software products can be used along with Pomfort ShotHub, which is a cloud system for data integration and information exchange in film productions.
ChronoSync | backup software for filmmakers
Website: https://www.econtechnologies.com/
ChronoSync is a macOS application for periodic backups, bootable drive clones and folder synchronizations. Thousands of photographers, video editors, filmmakers, musicians and other digital media creators use this software.
ChronoSync can synchronize and backup to just about anything you can connect to your Mac: select cloud services, other Macs, external drives, iPads, iPhones, etc.
Their companion products ChronoAgent (for remote file sharing) and ChronoMonitor (iPhone app for notifications & reporting) can also be useful to filmmakers.
rsync | command-line utility for fast video file transfer
Website: https://rsync.samba.org/
rsync is an open-source command-line utility for Unix systems that provides fast file transfer. rsync is freely available under the GNU General Public License. Using rsync, filmmakers can efficiently transfer and sync their video files between computers, external drives and/or across networked computers.
rsync is a fast and powerful utility that works well not only for one-off media ingests, but also for complicated transfers involving many camera cards and/or hard drives.
rsync can even be automated for reliable, efficient backups. While it is true that the learning curve for a command-line utility is, naturally, going to be steeper than traditional software products that have GUIs, once filmmakers learn the commands necessary to do their work, it becomes straightforward to use.
DaVinci Resolve | colour correction software for filmmakers
Website: https://www.blackmagicdesign.com/ca/products/davinciresolve/
DaVinci Resolve from Australian firm Blackmagic Design is a robust software product that combines editing, color correction, visual effects, motion graphics and audio post-production all in one. Initially launched in 2004, this software has been used on major film productions, including Avatar, Jason Bourne, Pirates of the Caribbean, and Star Wars: The Last Jedi.
Available on Mac, Windows and Linux, Blackmagic Design bills their Resolve software as "the world's most advanced professional non-linear editor."
Resolve can be extended with various third-party plug-ins and storage solutions. Resolve keyboards, color panels and audio consoles can be purchased separately.
HitFilm Express | free filmmaking software
Website: https://fxhome.com/hitfilm-express
HitFilm Express from English company FXhome Limited has a free ("Pay What You Want") version that is upgradeable to paid versions with more features.
This video editing software has professional-grade VFX features and is ideal for beginners, film students, gamers, YouTubers, or any creative without a budget.
Filmmakers can do both 2D and 3D compositing using this software. It comes along with over 400 effects and presets and is available on both Mac and Windows.
Avid Media Composer | best editing software for filmmaking
Website: https://www.avid.com/media-composer
First launched in 1989 and by now one of the standards in the industry, Media Composer is a film & video editing software application/non-linear editor developed by American firm Avid Technology.
Available on both Mac and Windows operating systems, Media Composer can do both offline and online editing, including uncompressed standard definition, high definition, 2K and 4K editing.
Avid also manufactures video interface hardware that can be used with Media Composer, including Avid Artist I/O for SD–4K capturing, monitoring, and output, and Avid NEXIS for storage.
Final Cut Pro | best editing software for filmmaking
Website: https://apps.apple.com/ca/app/final-cut-pro/id424389933
Most film and video editors will already be well aware of Apple's Final Cut Pro, which has become a standard in the industry and one of the most widely used editing programs. Although the fully rewritten Final Cut Pro X version released in 2011 faced much criticism, many of its shortcomings have been fixed in updates since then.
Final Cut Pro provides non-linear, non-destructive editing of any QuickTime-compatible video format. It is a Mac-only video editing software.
Well-known movies that were edited on Final Cut include Zodiac, Napoleon Dynamite, Sky Captain and the World of Tomorrow, and the Oscar-winning Korean film Parasite.
Premiere Pro and After Effects | filmmaking editing software
Website: https://www.adobe.com/products/premiere.html
Last, but not least. Most film and video editors will also already be familiar with Premiere Pro, which is generally considered the main competitor to Final Cut. Adobe claims that it is "the industry-leading video editing software for film, TV, and the web." In addition, full disclosure: Front Row uses Premiere Pro to edit the majority of its videos.
Available on both macOS and Windows operating systems, Premiere Pro is a timeline-based video editing software product first launched in 1991 (as Adobe Premiere).
With an Adobe Creative Cloud subscription, filmmakers can also access other great software that works seamlessly with Premiere Pro, including the compositing software After Effects. Notable movies edited on Premiere Pro include Deadpool, Gone Girl, Superman Returns, and Terminator: Dark Fate.
Get Film Insurance | Short-Term Film Production Insurance | Film Equipment Insurance | Video Equipment Insurance | Post-Production Studio Insurance | Post House Insurance
If you're researching software for filmmakers, chances are that you're a filmmaker yourself. The next time that you're working on a film production, consider Front Row's online film insurance policies.
Front Row's Short Shoot insurance policy (Canada) is a good option for insuring your short-term film projects. Coverage for up to 15 consecutive days of filming. The coverage is available online, 24/7. Covers rented gear, rented locations, rented props, sets, wardrobes, and more. You can get a quote in two minutes and purchase a policy 100% online. If you are in the US, please complete this form.
Front Row's DigiGear insurance policy (Canada) is a good option for insuring your filmmaking gear, including your film camera(s). Also available online. Quotes in 2 minutes; policies available in 5 minutes. Shop from your phone. If you are in the US, please complete this form.
We also offer Post-Production Studio Insurance in Canada and the US.
About: Front Row Insurance Brokers Inc. is an independent insurance broker that specializes in the entertainment industry – specifically, the film industry. Front Row works hard to provide insurance protection for the lowest possible cost. Should a claim occur, Front Row works diligently with clients and insurers to expedite the payment of claims. Offices in: NY, Nashville, LA, Vancouver, Toronto, Montreal and Halifax.
Related posts: