Third Party Property Damage Liability (TPPD Insurance) Explained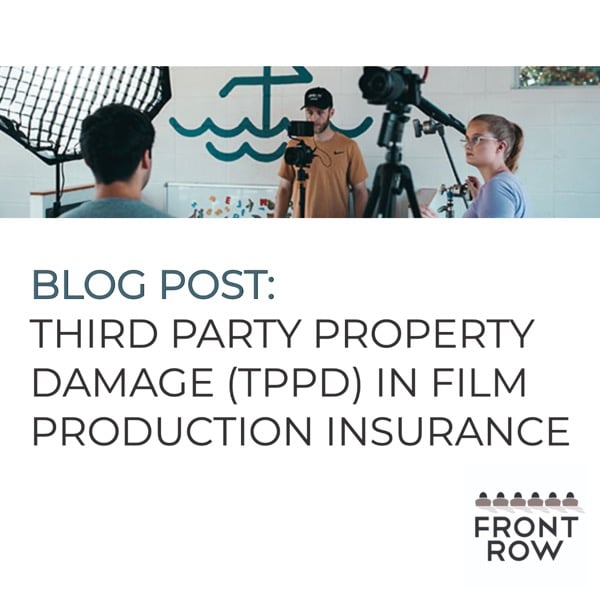 Third Party Property Damage Liability coverage provides insurance for the damage or destruction of property of others (including loss of use of the property) while the property is in the care, custody or control of the production company, and is used or is to be used in an insured production. This coverage is primarily purchased in relation to insuring against damage to a film location.
Third Party Property Damage Liability may also be extended to cover damage to buildings and contents rented as living quarters for cast & crew during a production.
This coverage does NOT apply to liability arising out of damage to Equipment, Prop/Sets/Wardrobe, Office Contents, Motor vehicles, Aircraft or Watercraft.
This type of exposure is NOT covered under a Commercial General Liability policy. Property Damage coverage written as part of the Commercial General Liability Policy excludes damage to any property in the production company's care, custody or control.
EXTRA EXPENSE INSURANCE
Extra Expense insurance reimburses the production company for any extra expense the company incurs in order to complete principal photography due to loss of, damage to or destruction of property or facilities contracted for use in connection with the production. Property could include items such as equipment, sets or locations.
Coverage can also be extended on some policies to respond to extra expenditures incurred because of delays due to a civil authority preventing access to a location, mechanical breakdown of camera equipment, or disruption of outside power.
To obtain a no-obligation insurance quote for your project, please click on one of the links below:
Film Production Package for a single production: features, television series, documentaries, and more.
A convenient way of administering your insurance if you anticipate multiple productions in the next twelve months. This type of policy covers Documentaries, Corporate Videos, Commercials, Educational Films, Music Videos, Shorts, and more.