Video: How do I add an additional insured to my policy?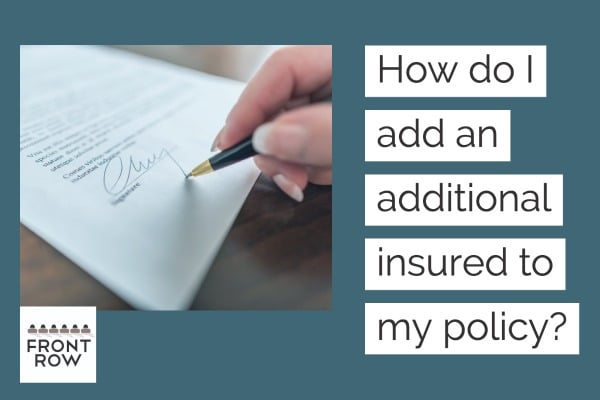 Jan. 2022 update: please send issued certificates to frcerts@frontrowinsurance.com

If you're applying for a permit to film or photograph on location, or host an event, you may have been asked to provide a certificate of insurance that adds an "additional insured" to your policy.
Adding additional insureds to your policy is actually really easy, especially with the tools that Front Row provides you.
First: I'm going to explain how to add an additional insured to your policy using Front Row's blank certificate. If you just want to fill out the paperwork and get that permit, this is as far as you'll need to watch. Second: I'll explain what it means to add an additional insured to your policy.
How do you add an additional insured?
Most of the policies that you can buy through Front Row's website come with something called a blank certificate of insurance. This is included along with the documents you receive by email when you purchase a policy with us. It's sent to you as an attached PDF.
You will also receive a PDF with instructions on how to issue blank certificates. The blank certificate is a fillable form that you can use to issue your own certificates. If you open the blank certificate, you'll see a fillable field at the top where you can add the Name and Address of the person or entity who you're issuing the certificate to.
To add a person, company, city, or government agency as an additional insured to your policy, copy & paste their name and address into the fillable "issued to" field.
Then print a copy of the PDF so it can no longer be altered. Give the certificate holder or permitting office their copy, and send a copy to our office so we know who you've issued certificates to. The instructions we provide will tell you what email address to use when sending us your certificates.
That's it! You've just added an additional insured to your policy. You don't need to get our approval or wait for any confirmation on our end. Front Row's blank certificates are quick and easy, giving you the freedom and flexibility to provide the insurance documents you need to secure location permits or rent out venues or equipment.
Now, I should add one caveat. The blank certificate form will work in most cases, but occasionally, you may have to contact our office to get a custom certificate prepared. Some organizations want to see specific wording on their certificates that doesn't appear on the blanks. If you're not sure if you will need custom wording, try the blank certificate form first. If they reject it, then contact our office.
Related Video:
What does it mean to add an additional insured to my policy?
Related Posts:
CANADIAN FILMMAKERS: NAVIGATING YOUR CERTIFICATE OF INSURANCE
FREE EBOOK! PHOTOGRAPHY INSURANCE 101: PROTECT YOUR CAMERA GEAR
PHOTOGRAPHY EQUIPMENT INSURANCE: YOU MAY NOT BE COVERED BY HOMEOWNERS
I'M JUST STARTING OUT IN MY PHOTOGRAPHY BUSINESS; DO I NEED INSURANCE?
4 QUESTIONS TO CONSIDER WHEN BUYING PHOTOGRAPHY BUSINESS INSURANCE
THEFT FROM VEHICLE: PHOTOGRAPHY INSURANCE EXPLAINED
PHOTOGRAPHERS & VIDEOGRAPHERS: SAVE MONEY ON YOUR CAMERA INSURANCE
HOW TO REDUCE THE COST TO INSURE YOUR PHOTOGRAPHY EQUIPMENT
HOW TO PROTECT YOUR CAMERA LENS(ES)
WHAT TO KNOW ABOUT RAIN PHOTOGRAPHY: PROTECTING YOUR CAMERA IN RAIN
UNDERWATER PHOTOGRAPHY BEST PRACTICES / IN-WATER PHOTOGRAPHY
PROTECT YOUR CAMERA GEAR FROM OVERHEATING
PROTECT YOUR CAMERA AT THE BEACH / PROTECT YOUR CAMERA FROM SAND
ORGANIZING YOUR CAMERA GEAR / KEEP TRACK OF YOUR PHOTOGRAPHY GEAR
INSURANCE FOR PHOTOS BOOTHS | PHOTO BOOTH INSURANCE FROM FRONT ROW
HOW DO I ADD AN ADDITIONAL INSURED TO MY POLICY?
5 THINGS TO KNOW ABOUT MAKING A PHOTOGRAPHY INSURANCE CLAIM
FRONT ROW: OFFERING ONLINE CAMERA INSURANCE POLICIES FOR PHOTOGRAPHERS