What is DICE? Docs, Industrial, Commercial, Educational Films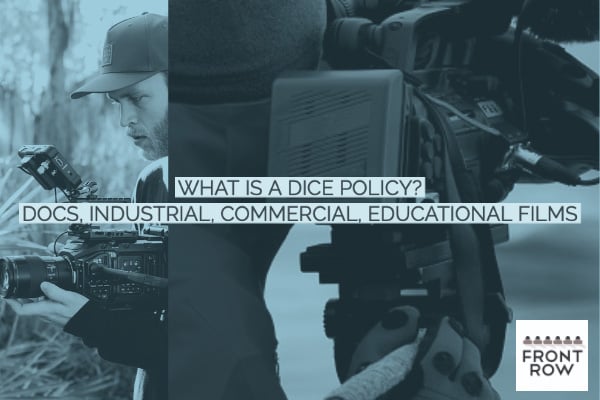 Photo credit: Unsplash
This is a great insurance policy to save you time and money if you anticipate multiple projects in the next 12 months.
Excludes*:
- Feature Length or Theatrical/Television Release over $150,000 budget
- Television Series or Episodes
- Productions with shooting periods +90 Days
(*unless specifically endorsed and in some cases an additional premium applies)
A DICE policy provides prearranged coverage for a year for your office and all of your productions--except for features and series with budgets over $150,000.
We will give you blank certificates for the year, allowing you to lock locations and rent equipment on the fly.
General Liability is less expensive with an annual policy as you only pay for it once per year and it covers all of your projects in a 12 month period. Less work and cost than arranging coverage for each of your projects.
A typical package for a Canadian producer with up to $250,000 in annual productions costs:
Coverage

Limit of Liability

Deductible

Negative Film

$150,000

NIL

Faulty Stock

$150,000

$2,500

Props, Sets & Wardrobe

$50,000

$2,500

Rented Equipment

$250,000

$2,500

Owned Mobile Equipment

$20,000

$2,500

Owned Fixed Equipment

$20,000

$2,500

Extra Expense

$50,000

$2,500

Vehicle Physical Damage

$250,000 Per Vehicle

15%/$2,500 Min $10,000 Max

Office Contents

$100,000

$1,000

Third Party Property Damage

$1,000,000

$1,500

Money & Securities

$10,000

$1,000

Commercial General Liability

$2,000,000

$500

Approximate Premium: $2,695

Agency Fee: $100

Applicable Provincial Sales Taxes will apply

Canadian DICE Production Insurance Package Costs:
A deposit premium

starts at

under $2,000 (subject to change)
Your Final Gross Productions Costs for all productions undertaken during the term of the policy are reported to the Company within 30 days following the expiration or termination of coverage.
The Annual Earned Premium is computed by applying the rate per $100 of actual gross production costs established at the inception date of the policy.
Premiums can be financed over the year to help your cash flow.
Rating will vary based on the Film/Video ratio, types of productions and number of annual productions estimated.
General Liability coverage (to cover locations against property damage or bodily injury caused by your crew) is extra. For example, a $2,000,000 limit would cost $750 annually; a $500,000 limit costs $1,000 annually.
Call or email us for a quote, a description of coverage and further information.
Related blog posts:
DICE Insurance Policies: Annual Protection for Multiple Film Projects
DICE vs. Short Shoot Insurance